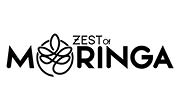 Haitian Moringa Oil by Zest of Moringa (15ml)
C$16.54
100% PURE, ORGANIC MORINGA OIL: Zest of Haiti's revitalizing moringa oil will provide deep nourishment for your hair. It contains multiple vitamins and nutrients that will help rejuvenate your hair. You'll have gorgeous, shiny hair when you apply moringa oil to your scalp. You can also use it on your body to help reduce the appearance of stretch marks, wrinkles, and blemishes.
In stock (can be backordered)
Reviews (0)
Only logged in customers who have purchased this product may leave a review.